← Back to portfolio
Bandcamp 10: May 2018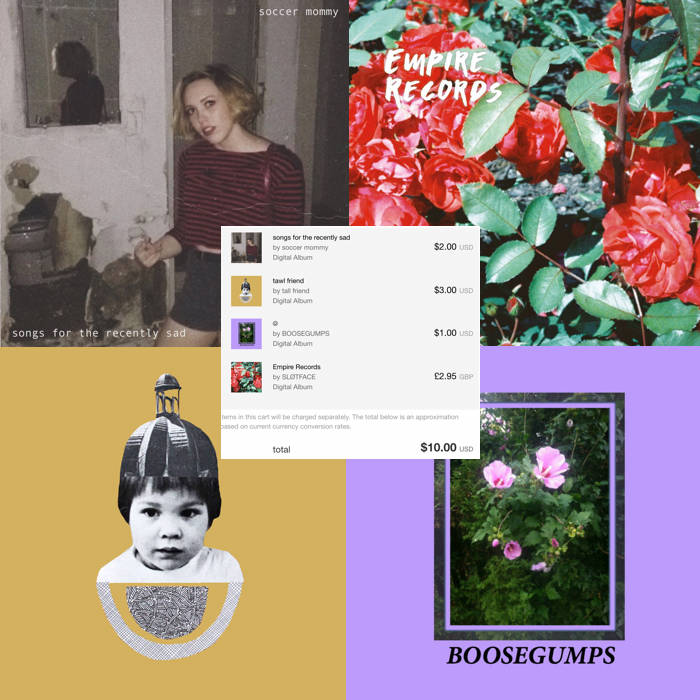 I didn't realize how dependent I had become on the Spotify smartphone app until I decided to cancel my premium subscription. It had become a reflex for me to hit "play" on whatever song was in my head the moment I woke up and stream music ad-free basically all day. I've been trying to unlearn that habit by focusing on the sounds in my surroundings instead of listening to music; by using YouTube, Bandcamp, Soundcloud, and still sometimes Spotify for moments that truly call for some background tunes; and by reading and rereading the "Cage of Convenience" essay from the back of my Slingshot planner to remind myself why I'm doing this anyway. It's made me do a lot of reflecting on the time, energy, and resources that go into making music, and how unfair it is that I've grown to expect to constantly consume it for free or very cheap.
---
And now, jams:
songs for the recently sad by Soccer Mommy
bedroom heartbreak indie from Nashville
Price: $2
Soccer Mommy has enjoyed a burst in popularity over the past year, and it's well deserved for sure. The full band project of Nashville singer-songwriter Sophie Allison just gets more and more refined with each album they put out, but if you know my taste you know I'm a sucker for early demos and raw, poorly-recorded bedroom takes. Since I couldn't purchase the entire Soccer Mommy discography for less than $10, I settled for buying their very first recorded EP, "songs for the recently sad," which happens to include my favorite Soccer Mommy song ever, "jacob." They asked for $2 and that's what I paid.
Empire Records EP by Sløtface
Melodic punk-inspired indie from Stavanger, Norway
Price: $4
I first came across the song "Fever Art" on a Ones to Watch playlist for SXSW when I went in 2017. Although I wasn't able to catch Sløtface at the festival, the song (and eventually the rest of the EP) made its way into my playlists and my regular listening rotation. Their full-length, "Try Not To Freak Out," came out the following autumn and it is also excellent. It's punky with a pop twist, but it's so, SO far (and so much better) than what I typically think of as "pop-punk." The group is Norwegian and signed to a small label based in Oslo, and they asked for £2.49 GBP (a little over $3 USD). I paid $4 to get a nice, even number (and had to pay $0.12 cents in processing fees, according to my bank. Worth it).
tawl friend by tall friend
Introspective indie from Philadelphia, PA
Price: $3
This EP is the dream you might have if you tinkered around on a guitar before bed after a long day of re-reading your old diary entries and also maybe a biology textbook. I had the absolute pleasure of catching this group in a basement in Kalamazoo this month and they packed a punch for a band I would have expected to be gentle; plus they were very kind people and that's always a big plus in my book. They asked for $2 and I paid $3.
☺ by boosegumps
Lush bedroom loops from Philadelphia, PA
Price: $1
I would promise to branch out and buy something other than bedroom pop eventually, but I just don't think I can keep that promise. There's something so magical to me about a slightly off-time loop and confessional lyrics. There's a delicate intimacy apparent in music never touched by a professional producer or directed by a label. Boosegumps is tender, sparkly, and makes the perfect soundtrack to some summertime front porch gardening. They asked me to name my price and I paid $1.